Automatic measurement of body temperature using thermal imaging cameras
Remote detection of fever –  prevention worth investing in
More and more production plants decide to enter a deconfinement phase which entails an increased number of employees in one place. We may also soon expect increased passenger traffic, among other things, at airports and railway stations. Shopping malls hope for a greater number of people who visit them as well. How in this situation can we ensure safety and prevent coronavirus from spreading?
One of the first protection barriers is the measurement of body temperature. A quick and hassle-free way is a contactless measurement of temperature with the use of thermal imaging cameras.
Etisoft has just  enriched its trade offer with an automated system for measurement of temperature that uses thermal imaging cameras. It's characterised by high accuracy and efficiency.
Automatic measurement of temperature and its remote monitoring – how does it work?
What does the situation concerning measurement of temperature in places with a great flow of people look like nowadays? Traditional thermometers are most frequently used. It's a time-consuming test which engages other employees and poses a high risk of infection. Automated systems for group thermal imaging measurement of body temperature are a modern solution that can support fight against the epidemic. They make it possible to instantly detect anomalies and react quickly thanks to a quick and accurate detection of an elevated temperature. The basis for further preventive actions is a sound alert that activates after the elevated body temperature has been detected.
Coffee? Cigarette? They don't affect the measurement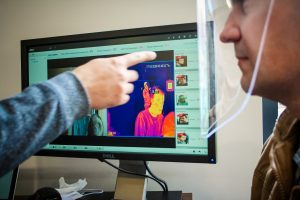 We have tested the offered system, among other things, in our company. As is turns out, reliability of measurements isn't influenced by the fact that the measurement was taken after entering a room from the outside where temperature was lower. The measurements weren't also altered by the fact of holding, for example, a cup with hot coffee near the face. The reason for that is the fact that the sensor is equipped with a detection algorithm thanks to which the measurement is taken only in specific points of the face that don't react to such external conditions. Moreover, it's resistant to other heat sources that may cause a false measurement.
Advantages of checking temperature with a thermal imaging camera
the test is conducted in real time
it can be conducted simultaneously in several people within 1 second
measurement accuracy is up to  ± 0.3 ℃
contactless measurement takes place within a distance from 3 to 5 metres from the detector
large measurement field doesn't require stopping and clustering in a group
it doesn't require prior test preparation and doesn't engage other people
possibility to display test results on a tablet with the use of a mobile version
generation of daily reports
complete, stable device, easy to assemble and use.
The camera will detect an elevated temperature and… a lack of mask usage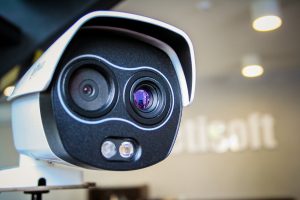 "The test with the use of a thermal imaging camera makes it possible to minimize the risk of virus spreading among people that remain in the building and consequently to eliminate the need to put the building in quarantine or disinfect it," Mariusz Adamus from Etisoft explains. "The solution offered by our company is additionally equipped with the function of detecting people without a hygienic mask. It's particularly important in case of facilities where the highest standards of personal protection are applied."
If you are interested, please contact: +48 32 332 80 36, marketing@etisoft.com.pl 
(55)