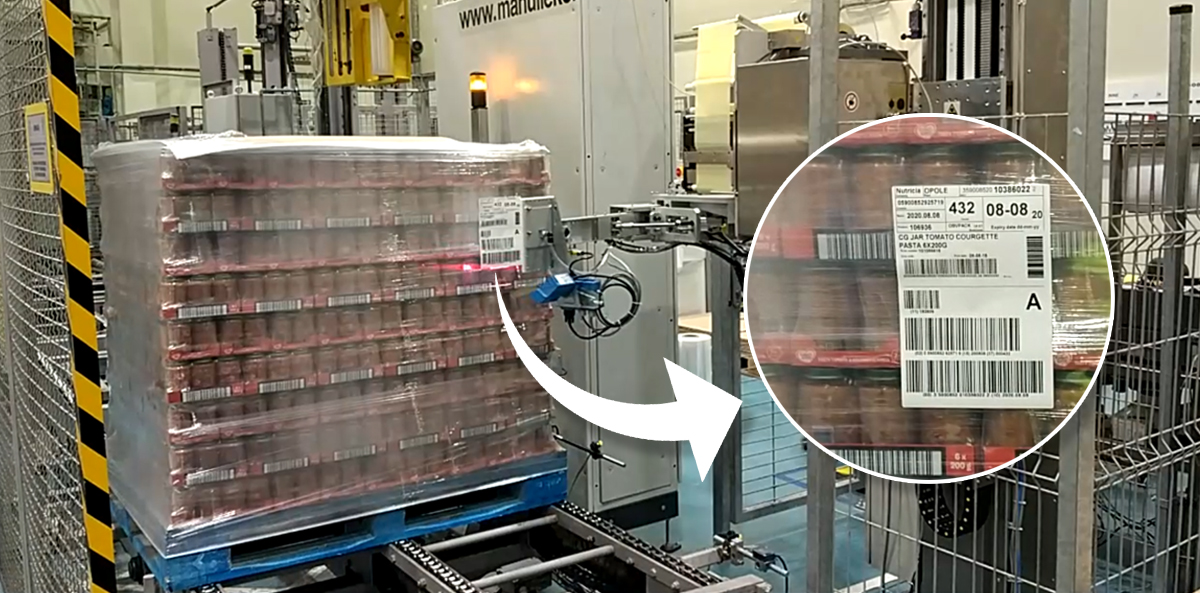 Logistic label applicator for marking of pallets and other collective packaging
Label-Aire 3138 N-DAT/Swing Arm: the ideal printing and applying device for logistics labels
Marking pallets and other collective packaging with a logistic labels (printed on a desktop thermal transfer printer or laser printer) and then manually applying them can be easily automated, eliminating operator involvement in the process. This process can be improved by using a logistic label applicator.
The number of application devices required depends on the number of pallet sides required and the way and system of transport. Conveyors with an integrated pallet rotation system enable to mark a pallet from each side with one applicator.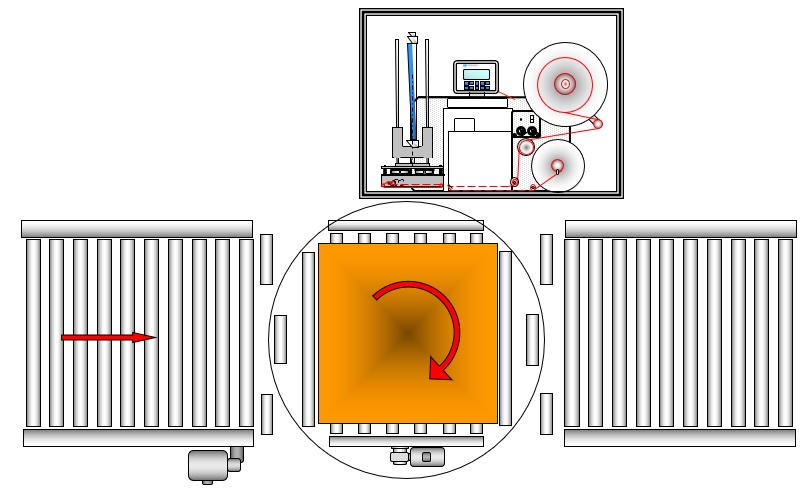 In the case of lack of a rotation system, if labels are applied on two opposite or adjacent sides, it is necessary to use two applicators.
Application of the logistic labels on the adjacent sides
The offered Label-Aire 3138 N-DAT (Dual Action Tamp) device allows you to print and apply two labels on the adjacent sides ( front -side or side -back) of the pallet. As a result, we reduce investment costs and minimize service and maintenance.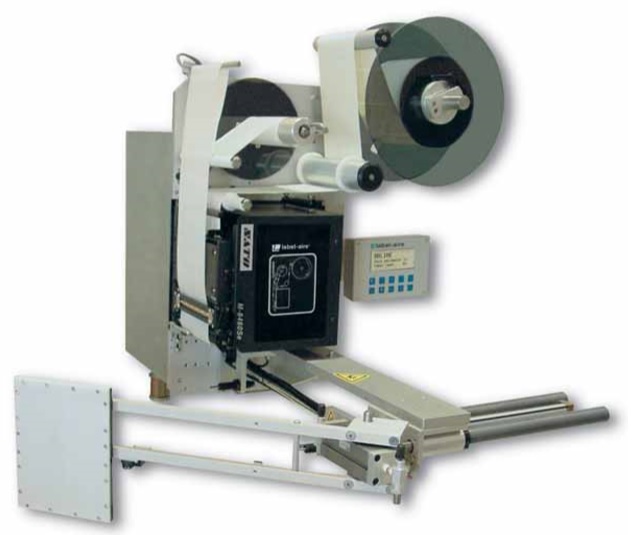 The sequential operation of the actuators extending the application arm does not force the product to stop during the application of the logistic label. Therefore, the pallet can move during the entire labelling cycle.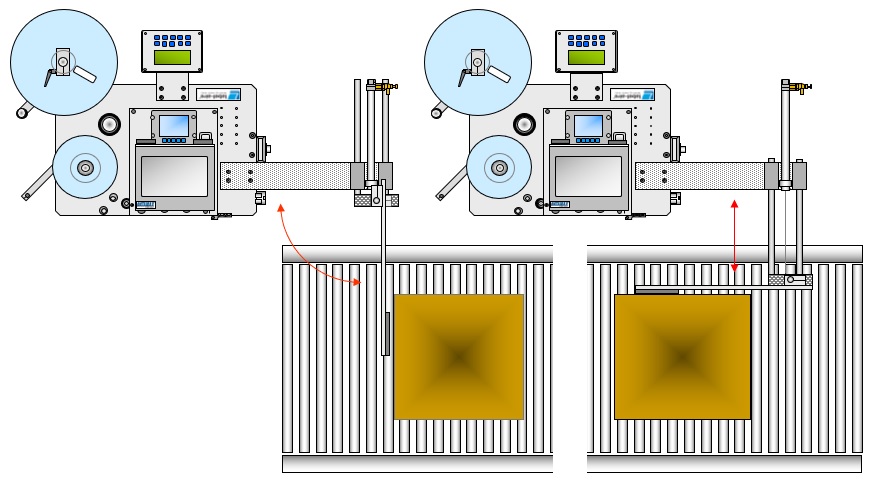 The Label-Aire 3138 N-DAT applicator allows you to mount any 4″ or 6″ printing module (e.g. Zebra ZE500), allowing you to print labels in one of the GS-1 standards for logistics labels (105x148mm or 148x210mm).
The machine is offered in two versions:
3138 N-DAT (Dual Action Tamp)
3138 N-Swing Arm
Both versions use a modified, non-contact Tamp-Blow application technology (the actuator with adjustable stroke – first extends itself at an appropriate distance from the product and then, using a compressed air blower, applies a label to it).
The LA3138-DAT is designed for dual labelling, i.e. where two adjacent product surfaces are labelled in one cycle.
Sequential application of logistic labels
The first label can be applied by simply pulling the actuator out. The second label can be applied by means of a 90° swinging arm (labelling of pallets and larger cartons – two labels in one cycle).
The LA3138 N-Swing Arm uses only a swinging arm for label application. This solution is suitable for front or back labelling. Label sizes and speed depend on the parameters of the printing module used. First of all, the device comes as standard with many advanced solutions. This includes a stepper motor, which guarantees reliable operation of the device and is characterized by a long service life.
Many possibilities to reduce downtime
It is noteworthy that the machines are also equipped with an advanced, multifunctional and user-friendly operator panel. It allows you to quickly and efficiently set the parameters of the applicator. The clear, two-line display gives full information about errors and the current status of the machine. In addition, the applicator also has a auto-configuration function, which allows you to save several dozen different settings. This shortens the time of stoppages needed to reconfigure the machine, and consequently reduces production costs.
LA3138 N-Swing Arm and DAT can be optionally equipped with a speed compensation system that improves the accuracy of the label application. It is also possible to optionally add a light signal that informs the operator of a malfunction or low consumable status. First of all, the 3138 N-Swing Arm can optimise the marking and identification process for pallets and collective packaging. It is noteworthy that this results in lower costs and improved efficiency of the entire production process.
Technical parameters: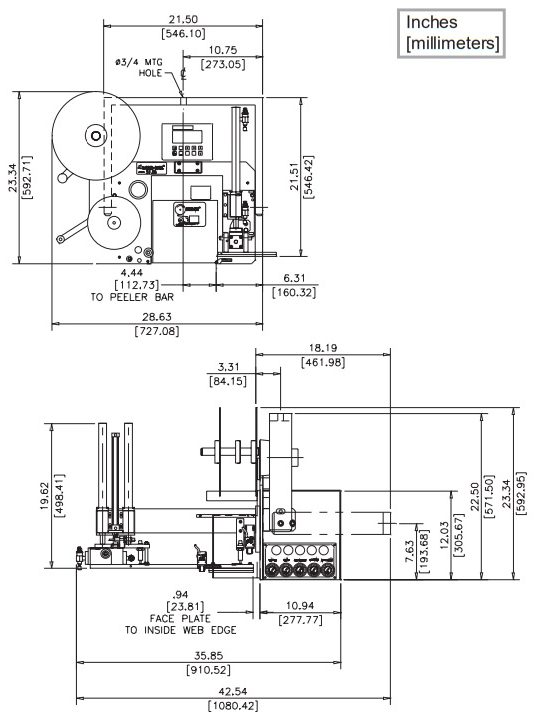 Dimensions of the device:
Height (592 mm), length (727 mm), width (911 mm)
Weight – 75 kg (without print module)
Label dimensions – width up to 183 mm, label length (depending on printer model) up to 210 mm
Max. roller width 300 mm/76 mm (outside diameter / inside diameter)
Label feed speed – up to 400 mm/s (depending on printer model)
Application accuracy ± 0.8 mm
Electric – 230V, 5A, 50Hz
Pneumatic – 6-7 bars, capacity 100 l/min.
If you are interested in improving the marking of pallets and other collective packaging using the applicator, do not hesitate to contact us.
(110)