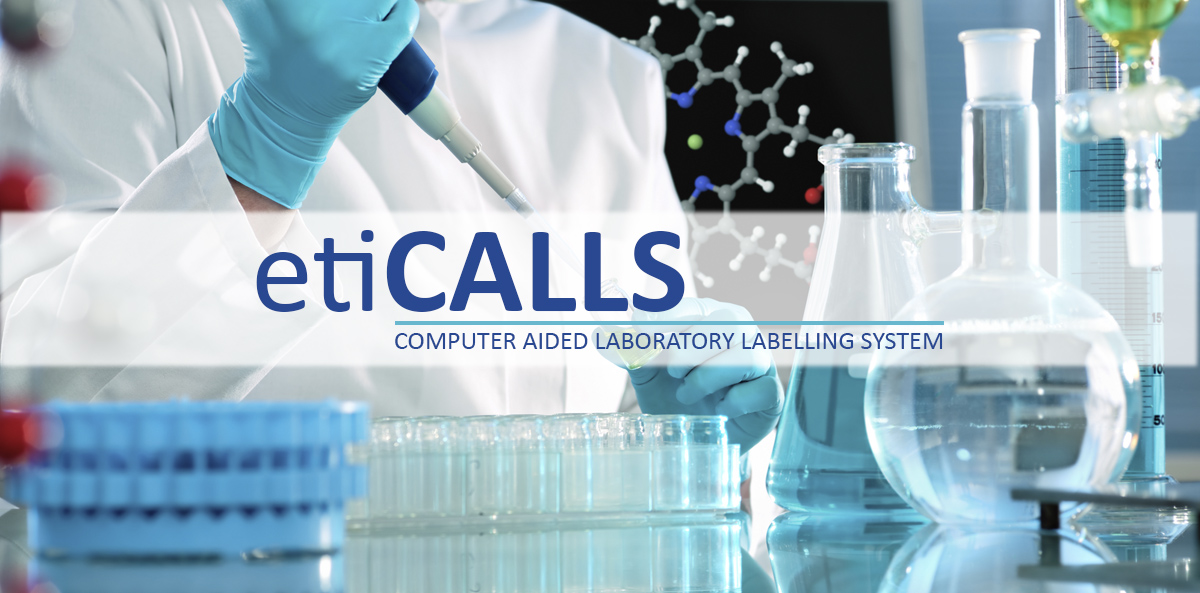 New feature for etiCALLS
System for extreme laboratory conditions
It is not easy to identify a place other than pharmaceutical and medical laboratories where samples of materials are stored in such extremely difficult conditions. From extreme temperatures, up to contact with chemicals, moisture, sterilization process. Good laboratory practice must guarantee the quality of the test and continuous monitoring of the process, which in turn results in the reliability of the analysis made. How to provide it?
etiCALLS – comprehensive and innovative solutions
For a past few years, medical and pharmaceutical laboratories have made use of the etiCALLS system – Etisoft genuine program. It allows easy, fast, friendly and, above all, permanent tagging of research material and laboratory equipment. The development of the laboratory industry has also made etiCALLS get a new face, adapting to the needs of the demanding market. It's not just a new logo, a website dedicated to etiCALLS, but also a much wider product range. The first changes that took place in the etiCALLS system are presented during the 12th International Pharmaceutical Industry Conference taking place between 19th and 20th April in Gniew (Poland) and focusing on the optimization and efficiency of laboratory processes. EtiCALLS perfectly fits into the expectations of conference participants and users, looking for comprehensive and innovative solutions.
etiCALLS – what is it?
etiCALLS is the result of our many years of experience, supported by cooperation with leading laboratories. The solution consists of specialized labels, a matching thermal transfer ribbon, software, printing devices, and code readers. The solution allows you easily and quickly create labels using text, barcodes, 2D codes and graphics (warning signs, chemical symbols). It also allows you to insert numbers and the current date and time.
The special labels and thermal transfer ribbons we offer guarantee legibility and durability even under extreme conditions of storage, as well as excellent adhesion to a variety of surfaces. We equip laboratories with a complete set of products and tools that allow you easily identify a sample, track the course of your research and the processes it has been subjected to. The etiCALLS system allows the collection and processing of laboratory data. Of course, labels are available in standard shapes and sizes that fit the application.
Where to use etiCALLS
The labels within etiCALLS set will be perfect for:
Samples
Straws, tubes
Histopathological slides and cassettes
Multi-grain plates and Petri dishes
Blood bags
Cryogenic shelves
Laboratory equipment
Documentation.
High resistance and durability
Labels included in the kit are featured with:
Excellent adhesion to synthetic surfaces, glass, metal, as well as rough and frozen surfaces
Resistance to high and extremely low temperatures (-196˚C to 150˚C)
Resistance to moisture and weather
Resistance to solvents, chemicals and detergents (alcohol, xylene, acetone, petrol, isopropanol, dyes, etc.)
Resistance to sterilization: in autoclaves, gamma radiation, electron beams
Resistance to oils and greases
Antistatic features
Long-term durability and consistency of the marking
High quality, durability and legibility of printing.
Optimization and efficiency
etiCALLS system brings many value-added benefits such as ease of identification, elimination of errors, and the introduction of good practices to improve the quality and productivity of laboratories. With the use of etiCALLS, the cost of operating the laboratories decreases as only the requested quantities of appropriately selected materials are printed.
The etiCALLS system will therefore work in those institutions where cost optimization goes hand in hand with quality, precision and reliability.
(90)