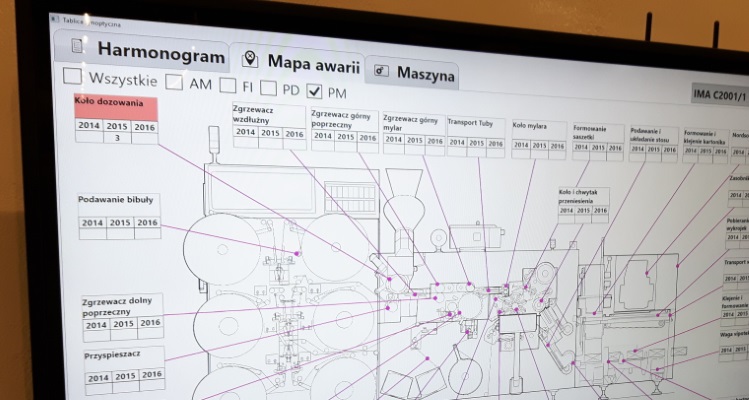 Thanks to etiLEDGER every smallest part of Unilever machines gained its history
How we dismantled  the machine
Katowice branch of Unilever – global FMCG corporation – produces top brand margarine and confects tea grown overseas. Employees working in this latter area for a long time have been looking for solutions that would increase efficiency of maintenance works as well as enable monitoring of maintenance operations on a given machine. The company needed a tool which could allow them to learn about the machines, predict their parts' life span and, due to well-planned parts exchange, prevent potential breakdowns. Unilever asked Etisoft, already experienced in implementations for them, for support.
Too many question marks
Main drawback of machine management system used so far was its limitation to main components and/or station type detail. A ledger, first in paper, later in excel, was of great help covering all machine's parts.
Ledger
Ledger is an automotive solution where all interference into machine parts is being registered. Yet, this way of registering is both time-consuming and burdensome to browse. Because the machine consisted of numerous single elements, using paper version of A0 book with over 600 pages, was truly ineffective and not ergonomic. Also excel version didn't make it, as electronic data was large and not easy to get access to. Such solution didn't allow quick and automatic generating of reports and calculations, hence mistakes or omissions were pretty probable. Because there was no machine history registered, even most experienced employees found it difficult to predict  maintenance plan and also monitor and analyze such unplanned incidents as breakdowns. The crucial information needed for total elimination of such incidents concerns its recurrence and frequency.
In summary: the knowledge was huge, but disorganized and hard to get to.
From general to specific
Due to continuous improvement attitude it was necessary for Unilever plants to find a solution to eliminate unknown, which happened to link to World Class Manufacturing implementation. Our customer found it crucial to create a complex database of tea-packaging machines with special emphasis put on planned, hence good, maintenance prediction system. This was a cornerstone for etiLEDGER – electronic ledger concept.
Up to the smallest screw
Thanks to etiLEDGER each and every smallest part gained its history. This solution, by presenting electronic projection of machine structure, enabled Unilever employees to get instant access to full history of its maintenance. Such modern orientation turned out to become a real advantage as mechanic operators, equipped in tablets, may freely "walk" all around the machine and instantly finding its proper part just by touching its virtual substitute. This, in turn, leads to clear and well organized work plan which reduces both excessive and omitted work.
One of the greatest and measurable benefits is a significant decrease in interruptions caused by lack of maintenance activities and elimination of unnecessary stock. Benefactors gained full control over any kind of changes into machine (analysis of machine's work parameters after part replacement or any other intervention). Also, such analysis led to obtain a full picture of real root cause of the breakdown. All the history, together with such analysis is available instantly, online, so are aids for machine, section, group or part (instructions, replacement standards, video account of replacement, characteristic chart, threats visualization, action sequence)
Marek Szojda, Unilever Polska
We asked Etisoft to create electronic ledger not without a reason. We know you enjoy such challenges. Until now, we used paper ledger, but this solution, adapted from automotive industry, didn't fully meet our expectations. We've been looking for a solution that would enable us to learn machines better, predict life span of certain parts and prevent breakdowns, or at least be prepared for them. This was a task for etiLEDGER.
(151)