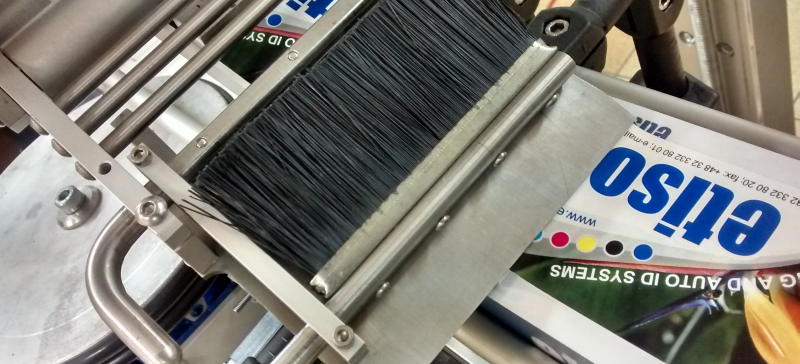 Application and Print &Apply devices
Automatic label application significantly accelerates work
In case any delay brings financial or image loss hard to make up later on, it is worth investing in devices and solutions that make work easier and faster.
Many companies using adhesive labels for goods identification and marking, apply them manually. This method is undoubtedly inefficient and time consuming – limits capacity and increases cost of produced goods. A bit better, but still far from perfect results in terms of time and money are obtained with semi-automatic application solution. This would be manual label applicator with label gap sensor.
Best possible solution comes from automatic application or print & apply devices, especially if you don't want to waste any of your time. They would apply labels directly on produced goods. For a past few years, Etisoft has been cooperating with Label-Aire –a pioneer and biggest supplier of print & apply devices on American market.
Arguments for automatic application speak for themselves. It happens though, that the customer is not even aware of limitations coming from traditional methods used in the organization. Meanwhile, this turns out to be one of the main bottlenecks for the whole production process. Unfortunately, companies tend to notice this obstacle no sooner than a real threat of losing a customer or his trust occurs. Such situation forces them to take emergency actions aiming at improving production capacity.
Advantages of automatic application devices
Automatic application devices enable full use of technological lines and adjust to specific demands of the customer, providing significant flexibility at the same time. For example, there is no problem to print labels of different sizes on the same device, as maximal label size is defined before the device is purchased.
Labels applied by either applicators or print & apply devices may be placed on various surfaces regardless their shape or material used.
Due to the fact that print & apply devices are equipped in integrated printing module, label content may be modified and updated just before they are applied. There is no problem to print labels with different content, such as part number, barcodes, etc. .
Every device is mounted on universal stands and has 3-axis adjustment. It is then fast and easy to adjust the device accordingly to particular demands of the application.
Other advantage coming from print & apply devices, besides its flexibility, is possibility to react fast in response to changing market demands. This is obtained by possibility to change any content of the label directly before it is applied on the product.
By buying print & apply devices there is no need to increase employment rate. They do not need a cigarette break, they don't get tired, and they always perform with equal speed and rate. They don't make mistakes, so common in case of human factor – either accidental or intentional ones. Such physical production protection means the staff have no direct contact with production line.
Yet, it is the speed of label application that makes most customers choose them. No employee, even the most skillful and experienced is able to compete with this device. When we define speed, we mean how fast the already printed labels are unrolled/applied by applicators, but without necessity to update or change any information.
In case of print & apply devices we speak about print speed which mainly determines maximum device performance. Maximal speed reached by the offered devices range from 25/min to 127/min in case of applicators and up to 200pcs/min in case of print & apply devices (considering label length, product pace, etc.) Maximum capacity utilization of our production lines translates obviously into savings, as we are able to produce more in the same time, just by using machines at their full power. These are strong arguments for abandoning manual or semi-automatized labels application.
(64)