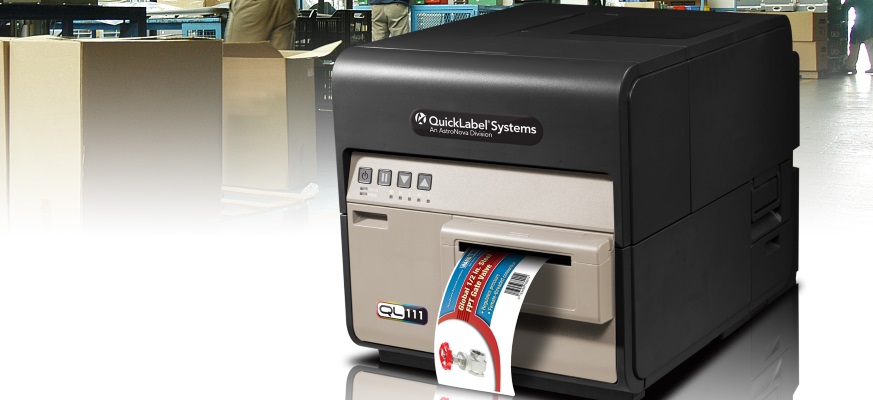 Inkjet printers for colour labels
New product from Etisoft – Quick Label Systems QL-111 printer
In response to customers' expectations and also with reference to EPSON Colour Works C7500W sales success, QuickLabel Systems (QLS –AstroNova Group) introduced new inkjet printer model.
QL-111 model is confusingly similar to already known Quick Label Kiaro!, nevertheless the producer did his best to combine Kiaro! functionalities, a few new, interesting solutions and lower price.
What has changed?
Lowering investment cost while purchasing printing and inkjet equipment is a major trend on this dynamic market. Altogether with a growing number of printing materials, starting from a wide range of paper, through PP, PE, PET, PVC synthetics, up to specialist Tyvec materials, we also observe a growing range of inkjet printers budget models.
QL-111 is such a budget model. Owing to decreased resolution by using 600×600 dpi print head, the customer is able to significantly decrease investment and operating costs of colour print. It is very visible that it is the industrial customer to have greatest need for label print on demand. Areas that may be interested in introducing such a device are production, warehouse, packaging and logistics.
Colour labels significantly improve supply chain processes by placing final product photo, colour overprint, pictograms and codes in a single print process. It's pretty interesting that the producer of QL-111 introduced QuickLabel's External Pause Module which allows to synchronise label printer and applier.
QL-111 printer may be an essential part of lean manufacturing processes, supporting consecutive elimination of thermo-transfer barcode printers, limiting stock of initially printed labels for further overprint and printing any kind of labels on demand either directly from ERP system, or any other source (graphic programs, label print software, etc.)
An important element of savings obtained by introducing colour label inkjet printer into production-logistics area is derived from the fact that all changes regarding content and looks of the label, demanded by the customer, may be regularly updated. Such a high flexibility enables dynamic reactions to branding lability (re-design, implementation and audit costs), controlling labels-on-demand production and, especially, eliminating mistakes that may lead to significant costs related to claiming and returning faulty product by the customer.
QL-111 model enables printing colour labels or running ribbon at the speed of up to 200 mmm/s, standard barcodes including 2D Datamatrix and QR Code. The price of the printer includes label design software and optionally integrated cutter and label winder. Etisoft provides warranty and post-warranty servicing and consumables (labels, cartridges).
(117)