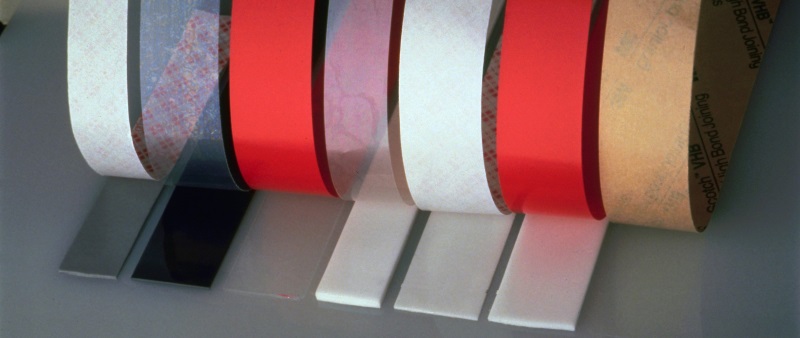 Double-sided adhesive tapes
Double-sided adhesive tapes – a trend and future in durable components joining technology
The title refers to more and more common trend of using double-sided adhesive tapes for permanent joining components. It is particularly visible in industries such as electronics, construction technologies, production of vehicles, machines and devices, advertising, etc.
Such expansion results from both "fashion" trends and environmental norms. It is connected with using innovative natural or recycled materials for the purpose of producing components.
Above phenomenon altogether with high demands set for glue bond in terms of mechanical and chemical endurance as well as joint esthetics, forced tapes producers to constantly widen portfolio of available solutions.
In this article I will do my best to convince you to using glue bonds, present general characteristic and advantages of them and at the same time assess double-sided adhesive tapes available on the market.
First, you've got to ask yourself a question:
Why glue?
I will not define what gluing or glue is. I could write another article on that.
One of the basic advantages of gluing is possibility to join various materials, where we deal with various substratum, surface or physical parameters, such as thermal expansion coefficient.
Referring to the above we could analyse a case of joining steel and glass. In this case welding or thermal sealing is out of discussion while using screws or rivets may be troublesome. We can then see the indisputable advantages and functionalities of double-sided adhesive tapes in production process.
Advantages and functionalities of double-sided adhesive tapes:
Quality and aesthetics
Understood as:
strong and durable bond, corrosion-free,
invisible, esthetic bond – no unsightly deformations, discolouration, rust bruises or welds on the surface
high sealing properties,
resistance to atmospheric factors,
damping.
Production efficiency – cost reduction
Which is understood as decreasing material demand and weight reduction owing to using thinner materials for components production and elimination of operations such as drilling, welding, screwdriving, etc. This leads to:
fast and easy gluing process,
elimination of finishing,
decreasing labour cost,
no need to use expensive machines and devices.
New possibilities of design
wide range of materials to be joined (metals, plastics, glass, etc.),
combining materials with different characteristics,
running custom projects,
possibility to cut the tape adjusted to the shape of glued elements, so called die-cut.
Glue bonds features
Many other qualities of glue bond add to this. These are:
uniform load distribution, elimination of stress concentration occurring when using other mechanical joining methods, i.e. bolt, riveted, welded connections,
weight reduction of elements joined, also by the fact that the elements do not connect at a point, but over the whole surface – we can use thinner material,
simultaneous bonding and sealing, which is associated with high initial strength (instant very strong connection), and thus the bond is tight,
prevention of electrolytic corrosion, where in case of metals glue separates glue components,
electrical and thermal insulation (optional depending on the type of tape used),
absorption of vibrations,
uneven surfaces, adaptability to the shape, surface texture (depending on the thickness of the adhesive, carrier, etc.),
adhesive systems used for joining materials with different surface energies (HSE, LSE),
systemy klejowe, pozwalające na łączenie materiałów o różnych energiach powierzchniowych (HSE, LSE),
environmental resistance, resistance to temperature variations, humidity, UV radiation,
other simple methods of joining sometimes require use of specialized equipment, i.e. welding, riveting, etc.
limiting finishing, implemented through a well-planned bonding, the use of die-cut,
requires no cleaning, grinding, etc.
How to gain correct components connection?
On presenting advantages and features of double-sided adhesive tapes one must also mention that in order to gain correct bond between glued components, proper accuracy and precision must be applied. While the converter is focused on providing high quality of the final product, whether in the form of a dedicated belt width or cut shape, the end user must be aware of:
care for pressure of glued elements (PSA adhesive – Pressure Sensitive Adhesive),
providing clean gluing surface and area,
there is no universal solution: each kind of glued materials requires selection and verification of accurate belt.
Processing double-sided adhesive tapes
We may obtain rolls of any width out of double-sided adhesive tapes. Depending on the carrier thickness, length of the beam, we may obtain from tapes of 2 mm width in case of fine ones, up to 5 mm in case of thick and acrylic ones.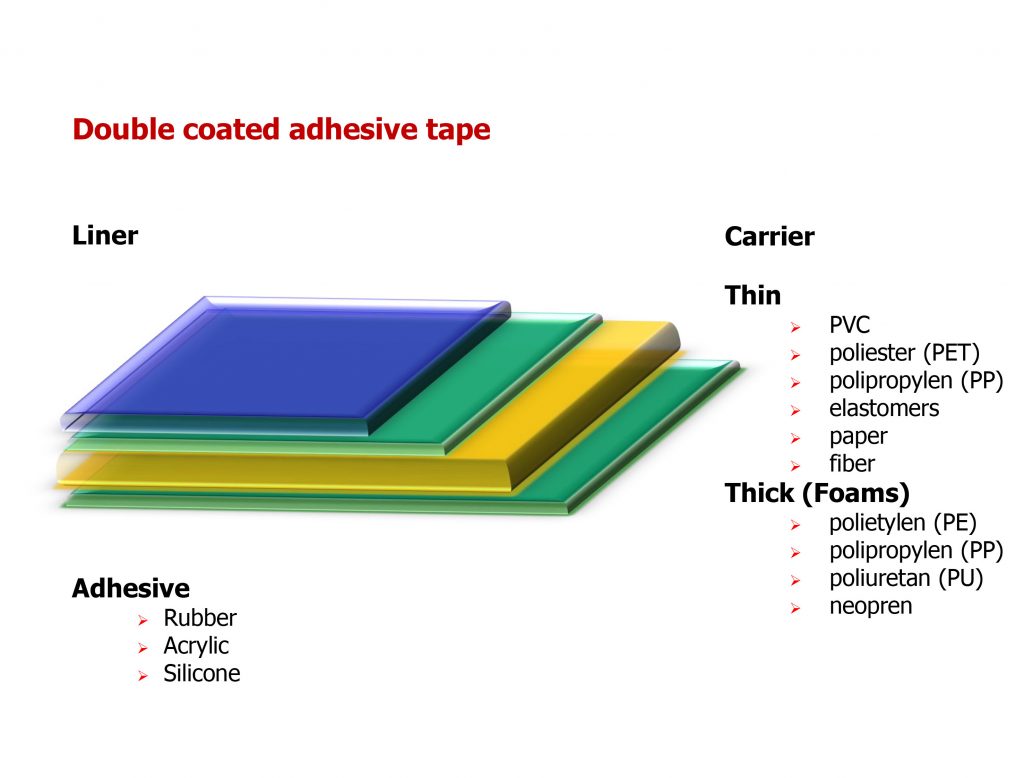 We also succeed in delivering all kinds of personalized patterns accordingly to outlines imposed by our recipients.
Our Quality, Technology and R&D departments provide support for our customers in selecting adequate solutions. We have our own laboratory where we are able to validate the selected solution if necessary.
Exaples of our patterns: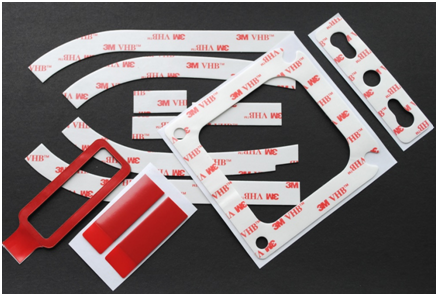 While choosing a given solution, one must remember to select a suitable adhesive. Each implementation must be treated individually, since solutions proposed for electronics, automotive or aviation industry are completely different.
This subject will be further developed in following expert articles.
We used 3M materials for the purpose of this elaboration.
(57)