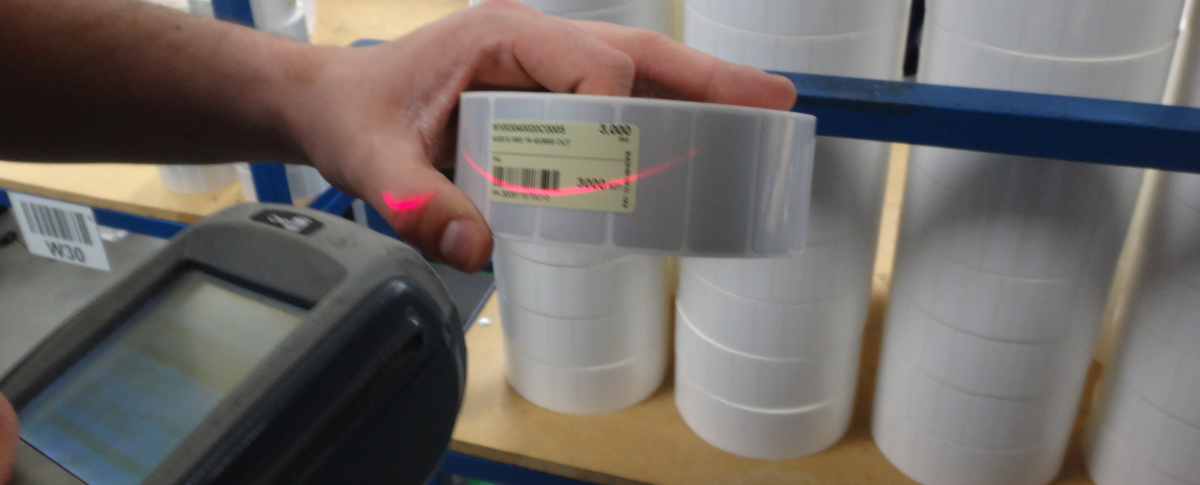 etiSZOP is a helpful tool in revealing non-compliances
Remedies – the departments ready to act
Three departments are dedicated to prevent a faulty raw material or intermediate from being used in label production: Internal Logistics, Quality and Technology. Owing to implementation of preventive actions, we manage to minimize number of claims for finished goods yet during receiving raw materials from our suppliers.
EtiSZOP is a system dedicated for goods receipt. It allows 100% detection of qualitative and quantitative non-compliances at the earliest stage possible (excluding hidden defects). Some parameters of the material, such as width and thickness are being checked on the "entry". Depending on a type of the material 10 microns tolerance is accepted. In case of a non-compliance, etiSZOP automatically reports an error and prevents the material from further processing.
One of the rules we use in case a non-compliance is stated, is a material control reaching till so called root-roll. By specially prepared controlling reports we are able to detect any possible information just by using a lot number: what was produced, how much and when, what was the raw material for this particular lot, what tools and intermediates were used, purchase order number, supplier, name of the operator processing the faulty lot, name of the warehouse operator receiving it, etc. By analyzing all this data we are able to reach the moment when a non-compliance occurred, see all the circumstances and introduce preventive actions so as not to repeat the mistake. In case the fault is claimed by the customer and there is a need to escalate the claim to our supplier, we are able to use a purchased sample altogether with a registration file. We store there all possible data concerning the non-compliance, including full information from machine operator, lot/batch number which enables getting the right information form the supplier, purchase requisition number for the root lot, date of non-compliance registration, lot location, type of claim (internal/external), as well as solutions suggested by quality specialist and claim process status.
Many years' experience and material knowledge allowed us to create and implement transport and storage rules which enable us to provide optimal conditions for our materials. Considering material type these may be:
necessity to transport and store the material vertically,
necessity to keep proper temperature or humidity (cooler or air conditioned space) – especially important with glue labels,
for material supplied in 2 meter wide jumbo rolls we use particular trolleys with belts keeping the product on its place,
in particular time intervals we flip some products upside down in order to spread the glue evenly on the surface,
for materials that need to be stored in a cooled space we have particular procedures which reduce contact with higher temperature,
products and semi-finished products leaving production line undergo a procedure which allows immediate shipment to air conditioned warehouse,
owing to an introduced regime, temperature-sensitive products might stabilize their structure in air conditioned warehouse before further technological processes are applied.
We elaborate and implement new methods for storing and transporting various products in order to provide safe environment for employees, minimize transport damages and reduce time spent in unfavorable conditions for the product. We also implement new transport methods for products weighing over 20 kg so that employees are not overloaded and products damaged (a modern forklift mechanism at Raw Material Warehouse, Torros trolley for heavy products and forklifts at those working stations where heavy materials appear).
(45)