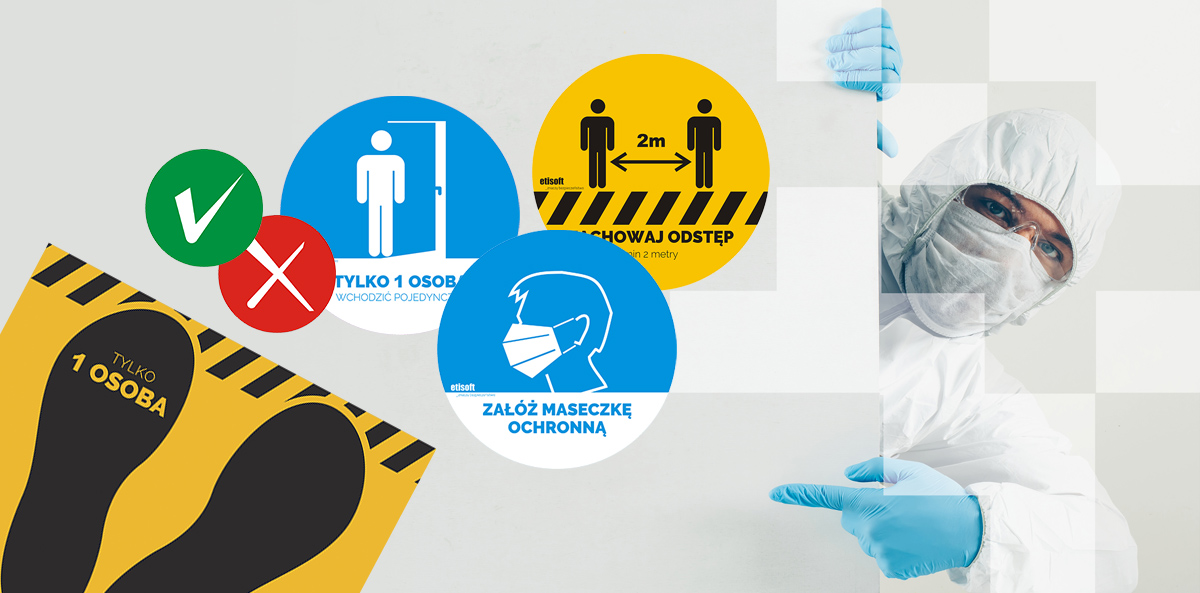 Warning and information labels – a way to a safe space
Self-adhesive labels essential for marking facilities and public buildings now available in our e-shop
A few months ago, it wouldn't cross our mind that one of our main concerns would be keeping the distance in public places, frequent hand disinfection, being careful not to touch surfaces without a reason, and, above, all, wearing masks. When more and more shops and facilities open their doors, their responsibility is to ensure that the required distance is kept and to create conditions that favour the maintenance of hygiene and safety. It's advisable to remind about the fact that these regulations are still in force. It's best to do it in the form of a graphic announcement. Therefore, it is a good idea to place warning and information signs in the most critical places.
Meeting the expectations, we have created durable self-adhesive labels that can be used to mark workplaces as well as the whole facilities. They are dedicated for being placed on the floor, window glass, doors… For the safety of all of us, it seems to be necessary to place them in shopping malls, DIY stores, hotels, restaurants, cinemas, offices, employment establishments, warehouses, service facilities (e.g. hairdresser, beautician) hospitals, out-patient clinics and many others.

Keep the distance! Remind and inform
Labels and markings, together with self-adhesive masks and visors offered by Etisoft, constitute a reliable set which facilitates adjustment of the facility and staff to being available again.
The Personal Protection group has just been enriched with:
information labels (e.g. disinfect your hands, enter one by one, one person at the cashier desk, put on a protective mask)
mandatory and prohibition labels (e.g. do not sit down in a group, do not sit down, no mobile phones)
warning labels to be placed on the floor.
Buy what you need to safely use public places in our shop. Take care of your safety, your loved ones, your employees and clients!
Visit us at: https://sklep.etisoft.pl/pl/c/Etykiety/23
Interested? Call us, e-mail us: 
epp@etisoft.com.pl; +48 (32) 332-80-64.

We are working Monday to Friday 8 a.m. to 4 p.m. CET.
#EtisoftMeansSafety
(87)