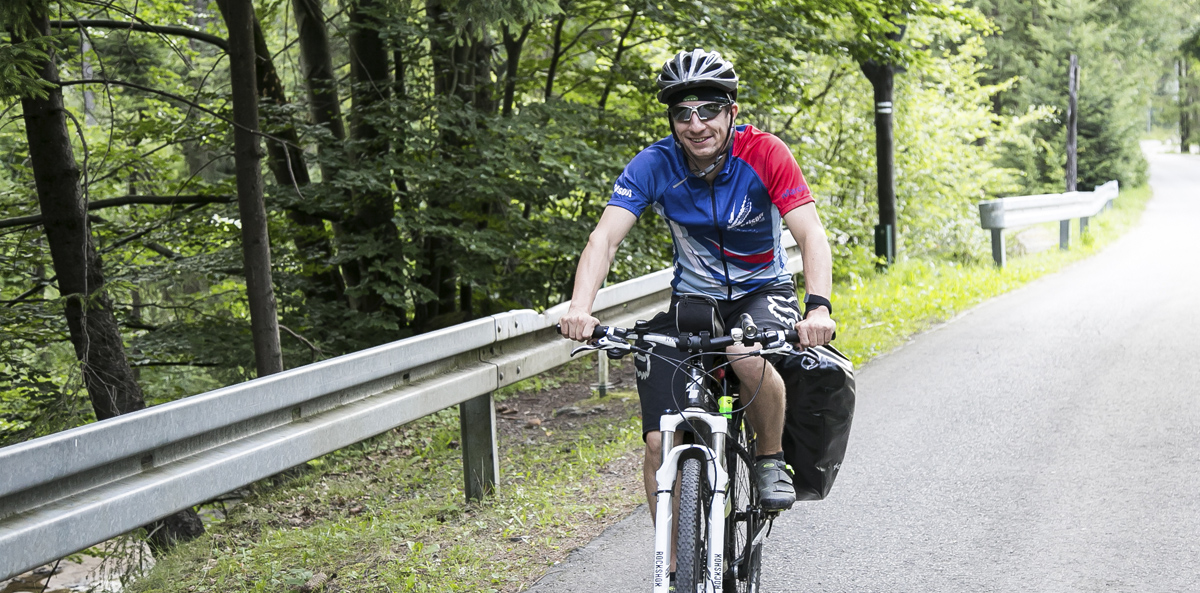 I just get on and cycle
The bicycle ultramarathon was a great adventure and gave me the opportunity to test myself in an extreme situation – says Marcin Pronczuk [interview]
An interview with Marcin Pronczuk, a member of the Etisoft Bike Team and a participant of the Wisła 1200 Bike Marathon.
When we have posted an information on the company's Facebook that you have cycled from the springs of the Vistula at Barania Góra to its outlet in Gdańsk, a well-deserved compliments arrived. Congratulations, Champion, our man with passion! For a distance of 1200 km, you have needed (adding breaks for a sleep) 150 hours and 23 minutes.
Now I understand why it is not a problem for you to jump on a bicycle, cycle from Gliwice to Wrocław for a kebab and then return by the same means of transportation …
Now that I have cooled down, I can thank everyone for cheering, for kind words, and Company for the financial support. And yes, when it comes to a bikes, I can be crazy. I just get on and cycle. This is my form of training. To keep fit I also run, mainly in winter. Decision to participate in the Bicycle Marathon Wisła 1200 in Etisoft's Bike Team colors was also spontaneous and accidental: my friends convinced me. In conclusion, the bicycle ultramarathon was a great adventure for me and gave me the opportunity to test myself in an extreme situation.
– Only you and the river. That was the motto of this event. But what did this mean in practice?
The rules of the marathon made it clear that we were on our own, so we could count on ourselves and our companions in such matters as food, rest, bike service, accommodation … Hence we ate very strange things, e.g. frankfurters with bananas… No outside support was allowed. Only once, at the 800 kilometer we took advantage of the hospitality of the residents who were waiting for us with food and lemonade. The organizers agreed to this because all participants had a chance to get this support. Now I know that it was useless to  carry a tent on the trunk, as each time we managed to find a hotel. Well, packing was also very spontaneous …
– What surprised you most during this trip?
Route. The organizers set it in winter. I knew that the road would lead along the Vistula with few civilized sections. At the 1200 km, there was at least a hundred kilometers of sand where you had to push the bike, it was not possible to drive on it. The bushes along the Vistula were severe – apart from the fact that I was very tired, I was injured too. I will not remember well also the driveways near Sandomierz.
– While you were fighting on the route, we, with flushed faces, followed your trail on the map shared by the organizers. The worst moments were when the point with your name stood still.
Oh, we have also monitored our rivals, especially those who have strongly fled forward. I will add that the winner reached the destination in 72 hours! We were not even halfway through the route at that time! As it later turned out, during the entire expedition he has slept only 28 minutes, 7 minutes per day. It's amazing. Despite this, I am very proud or myself and the result. I have ended on the 78'th place, wherein only 165 people reached the finish line. I will just add that a day later I have started a return trip, also on a bike. I have chosen the shortest route, so the road from Gdansk to Gliwice took me 33 hours, not counting the night rest. And despite the fact that every now and then I had to pump one of the wheels. So in 10 days I have driven 1780 kilometers.
– Crazy … What are your plans?
On the 18th of August, I will start in the Bike Marathon in Wisła. I usually start in such type of the events. I also dream about a rally around Poland, but this event is planned for 2021. Like the Wisła 1200 Bike Marathon, any outside support is forbidden. I will of course build my condition during the next spontaneous trips.
(46)