PCB Pack – for efficient traceability
PCB Pack – the way electronic components are marked
Within the framework of the Citizen Consumables Program, we will deal with PCB and electrical components labelling. But first, a few words of introduction.
Every now and then we hear that authorized service providers of automotive brands inform their vehicle users about the necessity of malfunctioning components exchange. They even  provide a particular car numbers. It is a result of a properly working traceability system, which allows to re-create a manufacture process of a particular product, including the identification of all its components. A car can be a shining example in which the identification of several thousand components and subassemblies, often from various suppliers, is crucial, as the user's safety depends entirely on it. A properly working traceability system requires all the final product components to be labelled with a unique number.
Of course, marking of the components does not refer to the automotive industry exclusively. It is widely practiced in every branch of industry. Nevertheless, currently, cars are produced with a great number of electronic circuits and today's text is about labelling electronic components, so the car example is justified.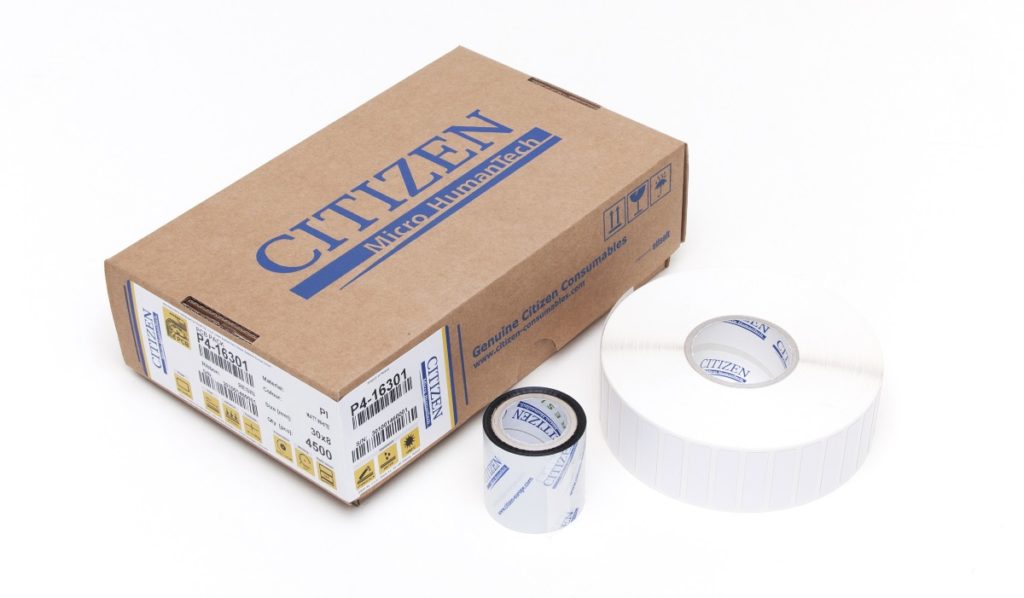 Two ways of setting
The most effective way of labelling in electronic industry is thermal transferred printing. The labels consist of a unique barcode or a matrix code. They are mounted automatically or manually to a PCB along with other elements or components.
What is PCB and what processes take place during installation of electrical elements?
In short, PCB is a board made of insulating material with electrical connections and solder points or lines used for relevant components to be installed. Depending on the product specification, there are two methods of automatic setting: Through-Hole Technology, THT and  Surface Mount Technology, SMT. The methods vary as far as the process of the components installation and a welding type is concerned.
Citizen Consumables Program for component labelling offers a PCB pack, which includes labels made of polyimide foil (kapton) and a compatible Citizen Resin thermal transfer foil.
Due to the PCB Pack labels' small size, we recommend Citizen 300 dpi printers: CL-S631, CL-E730, CL-S703.
Did you know?
in order to maintain the reliability of traceability system, a polyimide label is placed on the PCB at the beginning of the process. At a later stage, it is exposed to extremely high temperatures and chemicals used during the process,
polyimide labels are known for their thermal resistance. These properties are maintained during continuous use to temperatures of above 300oC,
printing done with Citizen Resin thermal transfer ribbon ensures an accurate code reading with AutoID devices, even at the final stage of the process.
Good practice
The application of high quality polyimide labels on the electronic components ensures their functionality and permanent marking. It allows to re-create the whole manufacture process, which meets the demands of customers as far as the traceability of a particular component of a final product is concerned.
(134)