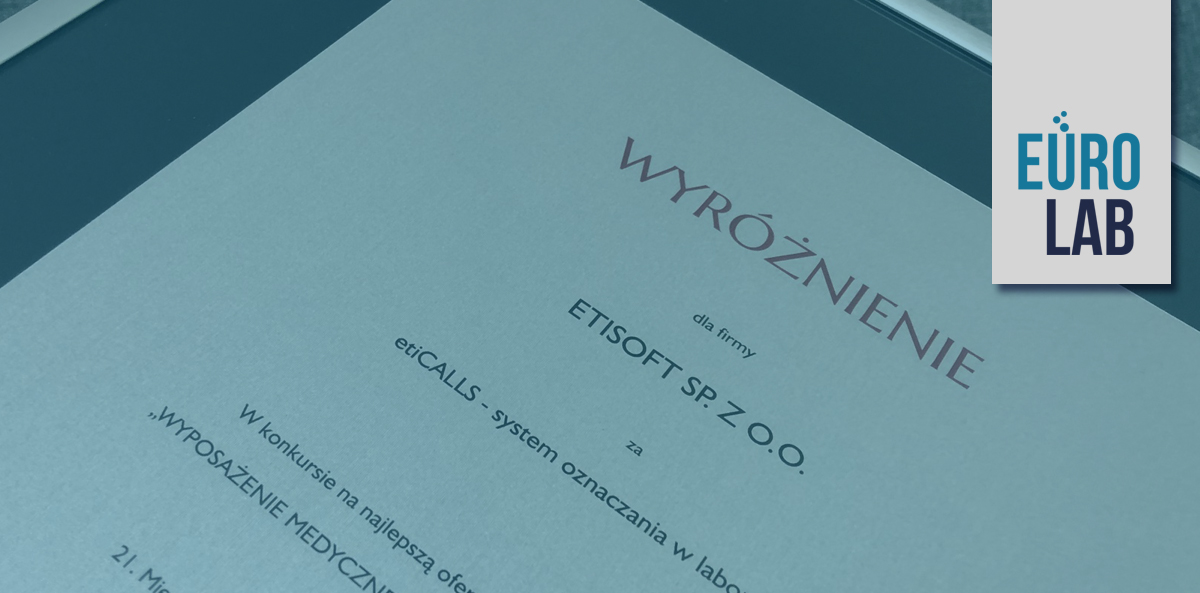 Our laboratory marking system appreciated at the EuroLab trade fair
etiCALLS rated as innovative
Experts once again appreciated etiCALLS – our original system of marking in laboratories.  The solution supporting laboratory personnel in their daily work won a distinction in the competition for the best offer of the EuroLab 2019 Fair in the category "Medical Equipment of Diagnostic Laboratory". Thank you!
This confirms our conviction that it is important and valuable to support the world of science and medicine in optimizing processes.
Durable Labels for Laboratories
The Competition Committee was mainly interested in such features of the elements of the etiCALLS system as:
the purpose of the labels, their durability, abrasion resistance and the possibility of archiving the samples marked with them.
Biobanking applications
capabilities and use of software, its functions, intuitiveness, ease of use and preparation of templates for label design
cooperation with databases
work and efficiency of the printer, type of printing, ease of use and failure rate.
The jury was also interested in our experience in working with laboratories. It was a good opportunity to boast of cooperation with over 300 facilities of this type in Poland and abroad, as well as with blood donation centres.
etiCALLS useful for biobanking
It is noteworthy that during the award ceremony, the jurors emphasized the innovativeness of etiCALLS. They appreciated its high usefulness and adequacy to the needs of modern laboratories, as well as its remarkable usefulness in biobanking.
Let's add that during last year's edition of EuroLab etiCALLS received a distinction in the category "Clean Room Laboratory Equipment".
(40)